Yusaku Maezawa
Yusaku Maezawa is a Japanese billionaire entrepreneur and art collector.
Yusaku Maezawa is a Japanese billionaire entrepreneur and art collector.
Before he became a billionaire fashion entrepreneur, Yusaku Maezawa was an indie rock band member who decided to skip college 'after seeing all the tired faces on my morning commutes' in Japan.
Born in 1975 in Chiba prefecture in Japan, Maezawa graduated from the prestigious Waseda Jitugyo High School in 1991.
It was there that he started SWITCH STYLE, an indie rock band which eventually released an EP in 1995.
After graduating, he followed his then-girlfriend to the United States, where he collected CDs and records of musicians he loved.
In 1995, he returned to Japan and started an import CD and record mail-order business.
His business succeeded, and he began to branch out.
In 2000, he created an online retail business. That same year, his band signed with BMG Japan and debuted an album.
His company, Start Today Inc, also began to sell clothing.
In 2004, Start Today began Zozotown, the site made a killing selling clothes from shops such as Japanese boutique United Arrows and minimal French label A.P.C.
Zozotown's success turned its founder, Maezawa, into one of Japan's richest entrepreneurs, and its name adorns a baseball stadium.
The website set itself apart in its early days with a clean, uncluttered design and a slice of 'Ura-Hara' style - the modish fashion of the backstreets that line the trend-setting Harajuku district of Tokyo.
Business took off as fashion-conscious professionals in their late twenties and early thirties started using Zozotown to buy trendy but work-appropriate threads online from labels such as United Arrows and Nano Universe.
Its target is now broader, selling over 6,800 brands including clothes by Shimamura Co Ltd, one of Japan's largest mass market chains. But industry executives say it still has an enviable cachet.
It continued to grow until 2007, when it went public and was listed in Tokyo Mothers Market.
In recent years, Maezawa has used his wealth to buy famous and pricey works of art.
In 2016, he spent $57.2million for a piece by Jean-Michel Basquiat.
A year later, he shelled out a whopping $110.5million at auction in Sotheby's for another Basquiat piece - this one titled Untitled.
He's also bought works by Christopher Wool, one of which he paid $13.9million, as well as Richard Prince.
In 2007, Maezawa spent $9.7million on Prince's 'Runaway Nurse', which was a record.
He also paid $6.9million for 'Lobster,' by Jeff Koons.
Maezawa's dream is to buy up works of art and display them in his own private museum in his hometown of Chiba prefecture.
* * *
Yusaku Maezawa's tweet dated 5 January has now been shared more than four million times.
A Japanese billionaire has ousted a chicken nugget-seeking US teenager to become tweeter of the most retweeted tweet of all time.
That's half a million more than Carter Wilkinson's 2017 request for help to secure himself a year of free chicken nuggets from fast food chain Wendy's.
But Mr Maezawa was offering some incentive to people to share his post.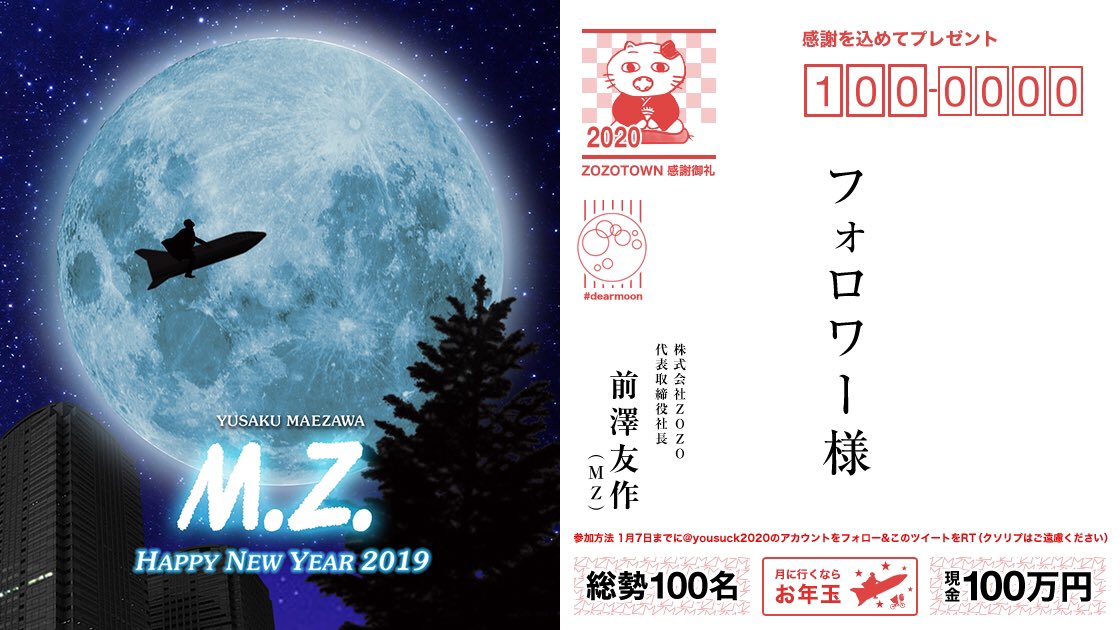 Yusaku Maezawa (MZ) 前澤友作
✔
@yousuck2020
ZOZOTOWN新春セールが史上最速で取扱高100億円を先ほど突破!!日頃の感謝を込め、僕個人から100名様に100万円【総額1億円のお年玉】を現金でプレゼントします。応募方法は、僕をフォローいただいた上、このツイートをRTするだけ。受付は1/7まで。当選者には僕から直接DMします! #月に行くならお年玉
1.44M
1:35 PM - Jan 5, 2019
6.02M people are talking about this
Twitter Ads info and privacy
Report
End of Twitter post by @yousuck2020
The founder of Japanese online clothing retailer Zozo Inc promised to share 100m yen ($925,000; £725,000) between 100 randomly selected people who shared the tweet.
"To participate, all you have to do is follow me and RT this tweet," he said.
The post appeared to be in celebration of his website Zozotown making 10bn yen in sales over the Christmas and New Year period.
The billionaire who wants to fly to the Moon
Why I bought a ticket to the Moon
Mr Maezawa first became famous as the drummer in punk band Switch Style, but made his fortune in the fashion world. He is believed to have a personal wealth of close to $3bn, a lot of which he spends on art.
He became known in the West late last year after he was named as the first private passenger due to be flown around the Moon by SpaceX, the company owned by another famous billionaire tweeter, Elon Musk.
The price Mr Maezawa agreed to pay for his ticket to space has not been disclosed, but according to Mr Musk it was "a lot of money".
Mr Maezawa has said he plans to take a group of artists with him on the flight, slated for 2023./Agencies