Yukio Mishima
"...living is merely the chaos of existence..." 
A small night storm blows,
saying falling is the essence of a flower,
preceding those who hesitate.
~ Yukio Mishima
"La Beauté c'est la Mort."
"...living is merely the chaos of existence..."
"Beauty is something that burns the hand when you touch it."
"We live in an age in which there is no heroic death."
"When silence is prolonged over a certain period of time, it takes on new meaning."
"True beauty is something that attacks, overpowers, robs, and finally destroys."
"To see human beings in agony, to see them covered in blood and to hear their death groans, makes people humble. It makes their spirits delicate, bright, peaceful. It's never at such times that we become cruel or bloodthirsty. No, it's on a beautiful spring afternoon like this that people suddenly become cruel. It's at a moment like this, don't you think, while one's vaguely watching the sun as it peeps through the leaves of the trees above a well-mown lawn? Every possible nightmare in the world, every possible nightmare in history, has come into being like this."
"Thus in a single phrase I can define the great illusion concerning 'love' in this world. It is the effort to join reality with the apparition."
"…the samurai ethic is a political science of the heart, designed to control such discouragement and fatigue in order to avoid showing them to others. It was thought more important to look healthy than to be healthy, and more important to seem bold and daring than to be so. This view of morality, since it is physiologically based on the special vanity peculiar to men, is perhaps the supreme male view of morality."
"Japanese people today think of money, just money: Where is our national spirit today? The Jieitai must be the soul of Japan. … The nation has no spiritual foundation. That is why you don't agree with me. You will just be American mercenaries. There you are in your tiny world. You do nothing for Japan. … I salute the Emperor. Long live the emperor!"
~ Yukio Mishima
* * *
"Do I, then, belong to the heavens?
Why, if not so, should the heavens
Fix me thus with their ceaseless blue stare,
Luring me on, and my mind, higher
Ever higher, up into the sky,
Drawing me ceaselessly up
To heights far, far above the human?
Why, when balance has been strictly studied
And flight calculated with the best of reason
Till no aberrant element should, by rights, remain-
Why, still, should the lust for ascension
Seem, in itself, so close to madness?
Nothing is that can satify me;
Earthly novelty is too soon dulled;
I am drawn higher and higher, more unstable,
Closer and closer to the sun's effulgence.
Why do these rays of reason destroy me?
Villages below and meandering streams
Grow tolerable as our distance grows.
Why do they plead, approve, lure me
With promise that I may love the human
If only it is seen, thus, from afar-
Although the goal could never have been love,
Nor, had it been, could I ever have
Belonged to the heavens?
I have not envied the bird its freedom
Nor have I longed for the ease of Nature,
Driven by naught save this strange yearning
For the higher, and the closer, to plunge myself
Into the deep sky's blue, so contrary
To all organic joys, so far
From pleasures of superiority
But higher, and higher,
Dazzled, perhaps, by the dizzy incandescence
Of waxen wings.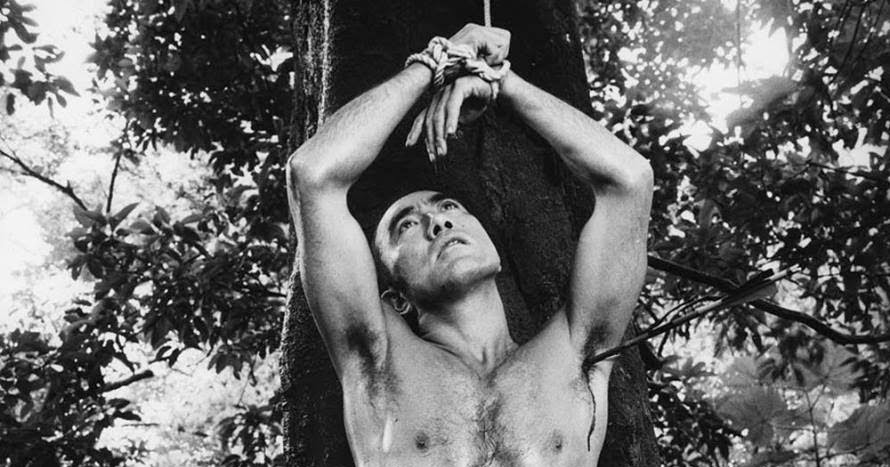 Or do I then
Belong, after all, to the earth?
Why, if not so, should the earth
Show such swiftness to encompass my fall?
Granting no space to think or feel,
Why did the soft, indolent earth thus
Greet me with the shock of steel plate?
Did the soft earth thus turn to steel
Only to show me my own softness?
That Nature might bring home to me
That to fall, not to fly, is in the order of things,
More natural by far than that improbable passion?
Is the blue of the sky then a dream?
Was it devised by the earth, to which I belonged,
On account of the fleeting, white-hot intoxication
Achieved for a moment by waxen wings?
And did the heavens abet the plan to punish me?
To punish me for not believing in myself
Or for believing too much;
Too earger to know where lay my allegiance
Or vainly assuming that already I knew all;
For wanting to fly off
To the unknown
Or the known:
Both of them a single, blue speck of an idea?"
~ Yukio Mishima, Sun and Steel